Thank you for registering for the 2016 Great Garden Barbecue
honoring the Adler Family
Wednesday, June 8, 2016 at 6:00 PM
at the home of Chayala Levitz & Yerachmiel Henig
21540 Potomac, Southfield, 48076
About Our Honorees – Beth & Avi Adler
Beth was born in Michigan which is why Avi, a New Yorker married her. Of course, it did not hurt that when they met, Beth was in nursing and Avi in medical school. Beth is now a registered nurse and Avi, an Interventional Radiologist. In addition to their time spent at home in raising their family, they also work with one another at their medical practice; Advantage Vein Institute.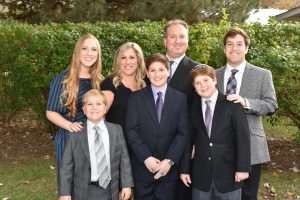 Beth and Avi are blessed with five children, students at Akiva Hebrew Day School. They teach their children by example, having been active in the Detroit Jewish Community for 22 years.
The Adler kids have followed suit, becoming active in NCSY, YACHAD & Bnei Akiva. Although Micah and Aaron are just getting started, Ethan has participated in nearly every NCSY event since he was of age. He, like his older brother and sister, always demonstrate enthusiasm and leadership. The oldest siblings, twins, Alyssa and Noah, seem to have always been involved in NCSY, having risen through its ranks. They served together as Detroit Chapter Presidents and now are both on the Regional Board. In that capacity, currently, Alyssa is the Vice President of Central East Junior NCSY and Noah, the Regional President.
The Adlers are loved and respected by a wide circle of friends. Their commitment to Torah and its institutions is a source of respect and should serve as an example to the community in which we all belong. Nevertheless, it is how well they have raised their five wonderful children that is their greatest accomplishment.
NCSY is proud to count The Adler family amongst its closest supporters and friends.
BBQ Registration Form
All registrations include two tickets to the Great Garden Barbecue