Register here to join us for an elegant rib steak dinner to benefit the teens of NCSY!
For more than sixty years, NCSY has been a premier model of informal Jewish Education that connects,
inspires, and empowers Jewish teens to be passionate about Judaism, Israel, and Torah.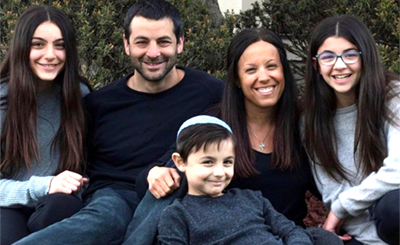 Monica began her very dynamic involvement in NCSY a few short years ago, when she was in Middle School. In High School, she served with distinction as Detroit Chapter President, as well as on the Regional Board. Since moving back to Detroit, Ari and Monica have played an indispensable role in the wonderful growth of the Young Israel of Southfield community. Erica, Tamar, and Jacob's engagement and involvement are truly inspiring—and most definitely due to their parents' devotion to NCSY. We are grateful to them for allowing us to highlight their wonderful family.
Anonymous
Max & Elana Berlin
Yael & Ethan Gross
Michal & Dr. Howard Korman
Sarah & Dr. Martin Kornblum
The Levitz Family
Shirley & Dr. Larry Loewenthal
Modell & Fischman Families
Paula & Dr. Jay Novetsky
Neil & Terry Schloss
Pam & JP Schwarcz
Dahlia & Jeremy Simons
Erin & David Stiebel
Janelle & Stuart Teger
Malke & Gary Torgow & Family
Lori & Alan Zekelman
Nili & Ari Carmen
Stacy Carmen & Family
Shelley & Mickey Eizelman
Caren & Dr. Jeffrey Goldenberg
Becky & Avi Katz
Sue & Jeff Lazar
Cherie and Dr. Noah Levi
Sheldon Yellen/Belfor Group
David Wolkinson
Debbie & Herschel Wrotslavsky
Beth & Dr. Avi Adler
Philicia & Marty Brin Eisenberg Family
In memory of
Barry, Meyer & Bessie Eisenberg
Rabbi & Mrs. E.B. Freedman
Penny & Seymour Greenstein
Dr. Lauren Kaplan
Laurie & Robert Kimmel
Shlomo & Aviva Luss/Superior Meats Shani & Reuven Meer
Rochel & David Weingarden
Marge & Tzvi Burstyn & Family
Chana & Dr. Maury Ellenberg
Judith & Dr. Phil Friedman
Ariella & David Gal/
David's Heating & Cooling
Hebrew Memorial Chapel
Dr. Susan & Larry Gormezano
Stephanie & Dr. Perry Friedman
Elad Hillman
Hunny & Daniel Khodorkovsky
Adina & Dr. Daniel Lebovic
Rabbi & Mrs. Boruch Levin
Elana & Dr. Yoni Miodownik/
Miodownik Dental
Chana Sherizen
Barbara & Dr. Barry Skarf
Ruth & Abe Spector
Suzy & Dr. Reuven Tawil
Chani & Moshe Torgow
Ruchie & Yoni Torgow
Brent & Nancy Triest
Sherri & Andy Weil
Judy & Dr. Fred Zwas
Marla & Jerold Zwas
Stephen Belsky
Sima & Dr. Mark Blumenkehl
Mr. & Mrs. Gerald Borsand
Terri & Dr. Michael Dworkin
Barbara & Mark Eisenberg
Karyn & Dr. Mark Faber
Paul Fischer & Dr. Karoline Puder
Naftali & Dahlia Gardin
Aviva & Ari Gelberman
Laurie & Dr. Phil Goldmeier
Cookie & Dr. Bernie Gonik
Gali & Gerald Hillman
Racheli & Ezriel Indig
Racheli & Yochai Krakauer
Linda & Dr. Harvey Lefkowitz
Rachel & Dr. Steven Lefkowitz
Henna & Rabbi Yosef Milworn
Nusbaum & Loketch Families
Barbara & Dean Pichette
Naomi & Shlomo Radner
Elaine & Dr. Harvey Sabbota
Dr. Janet & Stuart Snider
Aliza & Dr. Gabriel Sosne
Leslie & Dr. Nat Ungar
Dora & George Weiss
Jordana & Mark Wolfson
Kenneth & Marilynn Yarbrough